Top > School Life >
Annual Events

■Annual Events Schedule for Junior High School
■Annual Events Schedule for High School
■Annual Events Schedule for Junior High School and High School

■

Enrollment Ceremony
■

Orientation Camp for Junior High School and
 High School Freshmen
■

School Excursion

■

Actual Experience Speeches of Graduates who Successfully
 Passed the Exams
■

PE (Physical Education) Festival for Junior High School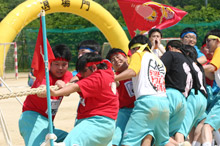 All junior high school students from 1st to 3rd grade are divided into 4 different vertical divided teams and color-coded according to each individual team. Each team presents a huge decoration and performs dynamic cheerleading. It is spectacular and an exciting drama to the end.
■

PE (Physical Education) Festival for High School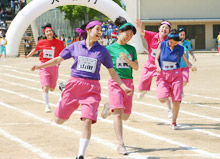 Interclass match in all competition and performance for all grades.This is the last school event for 3rd grade students, so they are so united and excited to play in these games.Each class decides one theme and all class members wear the same T-shirts and perform cheers. At the end of the program, a come-from-behind win might happen at an interclass relay race, so all participants should be cautious until the end.

■

Lecture for Mental Healthcare

To foster high humanity, solid morality and a sense of social service, we invite frontline speakers in many different fields to deliver stimulating lectures.
This program offers opportunities for students to touch the theme of mental growth and consider the ways to possess a positive mental attitude for a happy life.
It is intended to foster the ability to make self-judgment and create independent-minded individuals with the right behavior.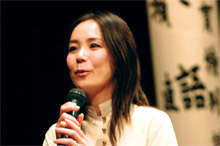 Lecturer Naomi Kawase, Film Director
Title : Talking about the Movie Titled "Mogari-no-Mori"
The movie titled "Mogari-no-Mori" is a fresh reminder about "life and death" and "the real meaning of living". We can learn the importance of relationships with family and people through this movie.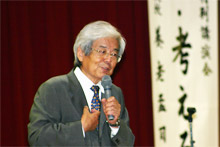 Lecturer Takeshi Yoro, Professor Emeritus of the University of Tokyo
Title: Learning and Thinking
Knowing of delay in study is the best motivation for learning.Furthermore, exercise in wild nature improves human's response capability rather than daily regular exercise.It also helps to develop intelligence.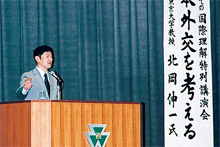 Lecturer Shinichi Kitaoka, Professor of the University of Tokyo
Title : Thinking of Japanese Foreign Diplomacy
Deliver opinion about international affairs, Japanese foreign diplomacy as the U. N. ambassador, and suggest ideal international contributions that young people can make.

■

Climbing Mt. Fuji for Junior High School 3rd Grade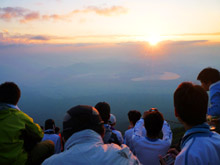 All 3rd grade students of our junior high school take up the challenge of climbing Mt. Fuji in the summer. They start the trek from halfway up the mountain and have a 5 hour long distance walk toward the mountain cabin located at the Hachigome (station 8). Students support and encourage one another, and they motivate classmates to overcome difficult situations. After having dinner and a nap, students leave the mountain lodge to catch the sunrise around 4:30 in the morning. The spectacular scenery refreshes their sprits.
After the refreshment, they motivate themselves to follow an arduous path leading to the summit. Moving forward step by step with a stick and overcoming their physical limit. When they finally succeed in climbing the mountain, they are filled with the ultimate scene of achievement and fulfillment and they smile, full of confidence.
■

Climbing Mt. Omine for Junior High School 2nd Grade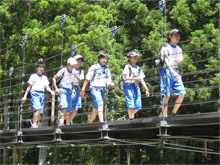 Our second grade students take up the challenge of climbing Mt. Omine (Sanjogatake), which is known as the birthplace of Shugendo (the Japanese mountain asceticism) started by the patriarch of Shugendo, Ennogyoja.This program is intended to acquire a positive attitude for enhancing physical and mental strength.In communal life, students can also obtain a sense of independence, know the importance of observing the rules and cooperation.They study the nature and history of Mt. Omine and develop their interests to natural and social sciences.
■

Farm stay for Stay for Junior High School 1st Grade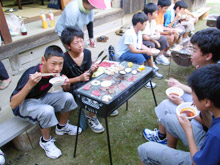 The farm stay program is designed to foster a compassionate mind toward others through communication with host families. Students realize the importance of food and nature which is often forgotten in daily life, and comprehend the meanings of agriculture and the forestry industry as occupations.
■

Summer School for High School 1st Grade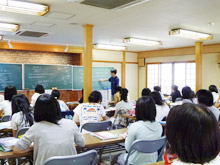 "By placing themselves in a different environment, changing their everyday life and learning with classmates, they can enhance their motivation and intension for study. This program is also intended to acquire systematic learning habits.They also deepen friendships and assume a sense of cooperation and importance of following the rules.

■

Summer Vacation
■

American Home Stay Program only for Applicants from High School
 Freshmen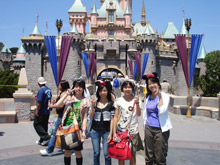 Our American home stay program is provided only for applicants from high school freshmen in the summer. The program includes home stay in the State of Utah, intensive English conversation classes, camping with local American students and exchange with students in Nishiyamato Academy California. Participants can experience a different culture through various activities.

■

Culture Festival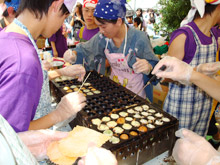 This is the biggest event for the whole school and it is called as "Nishiyamato Matsuri (Festival)". Students decide an annual theme and spend one-month preparing for the festivities. The executive committee for the cultural festival and representatives from culture clubs and classes exhibit strong leadership. All students make the best use of inventiveness and create a class display, presentations by culture clubs, selling and stage performance. They also build up the memory of youth by cooperating with classmates.

■

Language Study Tour in the United States for Junior High School
 3rd Grade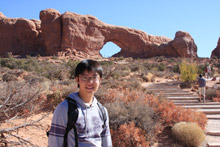 Nishiyamato Gakuen provides a 12-day language study program in the United States, when students are at the impressionable age of 15. The highlight in the program is to stay at a local home in Salt Lake City where students experience warm communication with host families. They gain significant experience through an exchange with a local school, camping and by watching American baseball games. At the end of the journey, exchange students and host families hold together and bid an emotional farewell to one another. This journey will be a first step towards becoming a global citizen.

■

Ball Game Tournament
■

Arts Viewing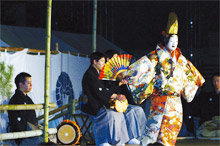 Through viewing different kinds of art which has received high evaluations, and by touching and interacting with real art during an impressionable growing period, students will gain sensibility.
■

Swimming Tournament for Junior High School 1st and 2nd Grade
■

China Exploration Tour for High School 1st Grade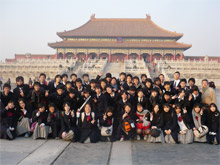 This tour is intended to be, "The first step for internationalization and is establishing closer relationships and deepening the understanding of our neighboring country. "We visit Beijing, Xian and Shanghai and experience the 3000 years of eternal history and the magnificent natural landscapes. By touching on the deep history and cultural assets and through exchanges with Chinese young people of the same generation, our students will be educated as global citizens. They also have the opportunity to foster friendships though exchange with Chinese students.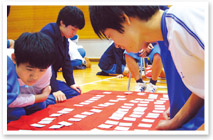 ■

"Karuta" Cards Tournament

■

Marathon
■

Ski School for Junior High School 1st Grade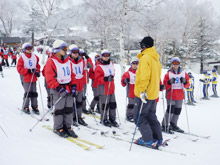 We have ski camping for 5 days and 4 nights at Shiga-kogen ski resort. This program offers a unique experience of winter joy and wild nature in the silvery white. They can experience the pleasure of skiing. Students without skiing experience will be trained by professional ski instructors and can make progress quickly. On the last day, many students enjoy the great outdoors and sled down the slope.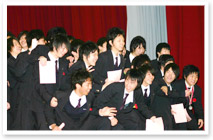 ■

Commencement Ceremony
■

Spring Vacation