School Prospectus
Nishiyamato Gakuen High School (Coeducation) was founded in April 1986. We aim to provide quality education in the ideal environment, surrounded by greenery and historical places, and to create a next-generation leader with high ideals and humanity.
It is widely agreed that there is no place like private school to obtain a superior quality education, and our original educational method is well received. Combining both homely warmth and strict discipline in our school community, brings about a mutual respect relationship with teachers while enhancing students' character developments.
Our education system focuses on individual capability and improves fundamental skills by individualized instruction. This method helps to develop a sense of self-achievement and enables our students to attend their choice of universities. In April of 1988, we established our junior high school (boy's school) with the aspirations of further improving our school, by offering a sequentially organized 6-year consistent educational policy.
Educational Policy
The educational policy is established to realize our school concept based on a spirit of our school prospectus.
Extract and develop the potential of individual students to the maximum, by offering enough time to improve basic academic skills and inspire interest in study.
Acquire a sense of independence and social, physical and mental well-being in a fresh communal life.
Educate students in the value of communication through relationships with teachers and foster rich minds to communicate with others with sincerity.
Achieve any goal with a passion and have a life policy with full of spirits.
Create a Leader for the Next Generation
Since it was established in 1986, Nishiyamato Gakuen has implemented our own original educational method by focusing on the creation of a next-generation leader with high ideals and humanity.
We continuously aim to develop an essential sense for leaders, such as scientific insight, internationalism and inspiring altruistic endeavors.
Be a Leader with Well-Cultivated "Wisdom"
Thought is honed by self-perusing answers and wisdom is honed by experiences.
Through joy of learning, students open up to a wider view and are able to acquire the abilities to make accurate judgments. They are also expected to assume a sense of independence and academic accomplishment.
Be an Active Leader on the World Stage
In order to be a global citizen, a true leader should be capable of addressing important questions like; How should Japan react in a global society? And What does the world expect from Japan? To be this type of leader our students need to have comprehensive historical perspectives supported by strong ethics and a sense of social service. In creating these leaders, we aim to provide world class leadership training and the highest level of character development.
Be a Leader with High Humanity
Challenge to a dream, creation and contribution. Not only to develop a sense of independence and humanity, but furthermore by fostering gratitude through various experiences our students can develop.
This is our educational method and it is how we foster a next-generation leader with high ideals and humanity.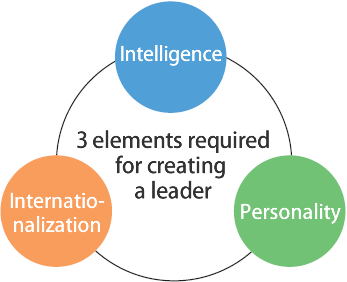 1st grade of junior high school
2nd grade of junior high school
3rd grade of junior high school
1st grade of high school
1st grade of high school
1st grade of high school
Intelligence
Experience Learning
Graduation Work
Super science program
Regular lesson and Follow-up
Course Guidance
International Education
Original English education system
Model United Nations Program for students returning from overseas
English conversation class led by native teachers
(small class size)
Language study tour Short-term exchange program to US
Overseas exploration tour
Personality
Class for mental healthcare
Various cultural events (Cultural festival, Arts viewing, Farm stay, etc.)
Swimming
Kendo
Judo (exclusive for boys)
Various sports festival (PE festival, Climbing Mr. Fuji, Ski school, etc.)